WE HAVE 4 NEW AND EXCITING PROGRAMS TO OFFER
Not Eligible for
Group Health?




Cold, flu, doctor and hospital visits are now available! Need health insurance at an affordable price? You can now purchase, have payroll deducted, and reduce your cost by approximately 25%.

Click for free quote.

Very Important Notice

The American Group has merged with WorklifeHR, the 8th largest PEO/HRO in the U.S.

You have received information regarding this exciting event.

However, if you are preparing to log into the client login sight to process your payroll, please go to...

... and go to Employer Login. Your login and password information has not changed.

We thank you for your business. If you have any questions, call us.

330.668.1845

Ohio Corporate HealthCare Alliance™



The OCHCA is pleased to announce the addition of Kaiser Permanente to our Alliance. Kaiser has the lowest rates in NE Ohio. They offer numerous health plans from Health Savings Accounts to Preferred provider plans, along with their HMO plans. Through the Alliance, you will be receiving a substantial, additional discount.

The Ohio Corporate HealthCare Alliance was formed by Ohio small business owners for your business. We are offering PEO's access to high quality healthcare at the lowest possible rates.

Click here to find out more.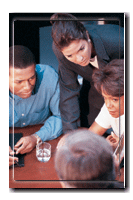 As the myriad employment laws and regulations continue to change and become more complex, the challenges facing small-to-medium sized businesses increase. Imagine ending the headaches and hassles of employee administration and saving tens of thousands of dollars so you may become more competitive within the marketplace.

Today, more than ever, business owners are benefiting from outsourcing employee administrative duties, such as human resources, health benefits, recruitment, hiring, and staffing, Workers' Compensation, payroll administration and taxes, compliance, and unemployment insurance claims to a single source, The American Group.

The American Group is a group of companies providing comprehensive human resources, benefits, and business solutions. Depending on your needs, we design customized, integrated, and cost-effective programs so you have more time, resources, and tools to focus on the profit-generating aspects of your business. We recognize that the most valuable assets to your company are your employees. Gain valuable time, without the administrative burdens, to concentrate on your core business and bottom-line. Stability. Choice. Sophistication.

The American Group has been a proud winner of the
Cascade Capital Business Growth Awards for 2002 and 2003.